Updated List of Rules for Traffic Violations in India – 2019
|
Breaking the law in any sense is bound to attract punishment. The severity of this punishment depends upon the nature of the committed offence. With regards to breaking traffic rules, citizens can be asked to pay a fine, serve a jail term or face disqualification in the form of a ban from driving any vehicle.
The fine amount is updated every few years to curb the violation of rules. Breaking traffic rules in India can lead to accidents and even death in severe cases. Let's take a look at the updated list of penalties for traffic violations in India.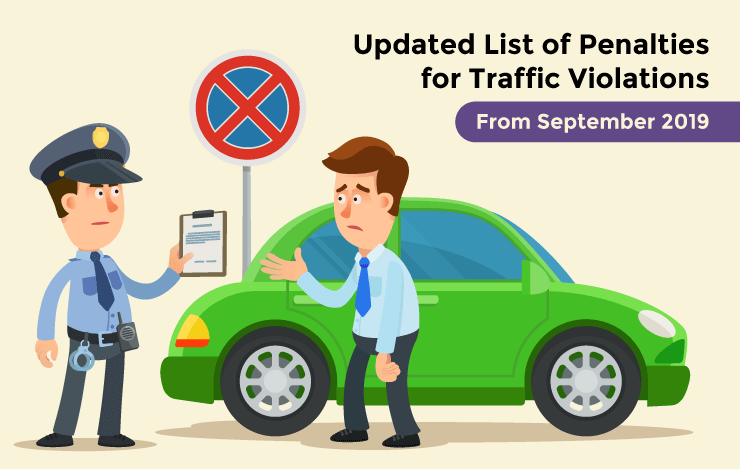 List of Traffic Police Fines for Violations (Updated):
Traffic rules in India are in accordance with The New Motor Vehicles (Amendment) Act, 2019. Change in the traffic police fine amount is clearly mentioned in the updated act. New traffic rules are stringent with a steep increase in penalties as well as jail terms or imprisonment for traffic violations.
Example for Driving without Insurance:
If you're caught driving without insurance, the existing penalty of Rs.1,000 and/or imprisonment of up to 3 months has been increased to Rs.2,000 and/or imprisonment of up to 3 months for the first-time offence and Rs.4,000 and/or imprisonment of up to 3 months for the second-time offence.
Following is the list of violations and their corresponding traffic fines and imprisonment terms.
Driving under the influence of an intoxicating substance is a serious crime. Chances of damage and injuries increase exponentially when a driver is not alert of his/her surroundings while driving. It is dangerous not only for the driver but also to co-passengers and others present on the road. Thus, the fine amount depends on the level of intoxicating substance present in the blood. Drinking alcohol and driving a vehicle are common occurrences, here is the list of traffic police fines for the same…Read more>>
Source:-acko